---
Plasbin in Schools

If you want to know how the average child would behave when they grow up, simply look at the society's adults; they are perfect snapshot of your kids' future collective behavior.

Armed with this understanding, we developed and run

Plasbin-in-Schools

, a programme that actively engages academic institutions in Oman to capture the attention of, and nurture our young citizens into environment-minded and caring 'society.' Plasbin in Schools ideally changed the calendar week from 7 to 8 days, where the 8th day is dubbed

'Plasday'

Our aim is to place Plasbin at every School in Oman, ideally to educate young people on global environmental concerns and more importantly, to make the waste plastic recycling agenda a part and parcel of their everyday life as they grow up.

To achieve this goal, we harmonize our work with Schools' administration towards a sustainable waste plastic recycling programmes that comprise of regular interactive activities throughout the year.

Key among these activities include waste plastic recycling art workshops, plastic waste clean-up events, waste plastic art competitions, and much more, which collectively aim to give the young pupils a hands-on opportunity to exercise their creativity with waste plastic for the sake of our environment.

These workshops are conducted and guided by our professional artists working together with the schools' teachers.

If you are a school administrator and wish to invite us for any of above activities, please feel free to

contact us

. You can also suggest to us an event directly at our online calendar

here

And if you are a corporate organization interested in supporting our Plasbin in Schools programme please become our Premium Partner

here

and don't forget to

like us on Facebook

to remain abreast of our regular social updates.

Together we can rest assured that the future generations will have plenty to be thankful of us.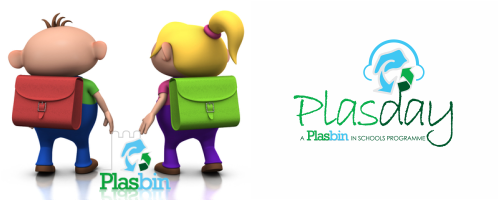 ---
Plasday Poem

This poem (right) was written and read to us by Hadeel AL Jabri, a pupil at Al Ruwad International School during one of our Plasday visits.

Thank you so much Hadeel and keep up the great work of caring for Oman's environment.

Waste in Our World
By: Hadeel Al-Jabri

Waste is not good
As we waste we make dirt
So don't waste
The landfills are getting bigger
Each time we throw

I should not waste
Not a dust in the landfill

Onto recycling
Until you are big
Recycle, reuse, reduce

World in danger
Onto cleaning
Recycling is good for the environment
Let's start recycling
Daily recycle your waste
---
Current Plasbin Partner Academic Institutions